Presently after a period of 38 years firm has grown from a small steel fabrication unit to a sizeable multi diversified organization capable of undertaking contracting works in following sectors.
STEEL FABRICATION
Since its inception Al-Habshi Establishment has been meeting the needs of its clients and establishing a firm and continuous business relation with local and international companies providing services in steel fabrication and installation works, handling over 2000 MT of materials annually.
Besides the major activities of fabrication and erection works, Al Habshi Est. provides services to its clients in the field of coating anti corrosive treatment for steel structural elements and pipes.
It also provides commercial blast cleaning of structural steel to SA2.5 and coating of steel structures to the specification as required by clients/contract, subject to approved application method as recommended by the manufacturer.
Al Habshi Establishment is capable of executing designs and drawings of works as per customer requirements.
Typical fabrication work includes
Building structures for commercial and residential use.
All forms of steel cladding.
Telecommunication, water and sentry towers.
All types of steel fencing.
All types of parking lot.
Miscellaneous projects such as fire doors, ladders, lighting poles, infra structure materials & moulds
GALVANIZATION

The arid environment combined with large coastal area make steel products susceptible to deterioration. To protect against such, Al-Habshi Establishment has been providing this unique service to the Kuwaiti market since 1985.
Al-Habshi Establishment has been in the market as one of the leading galvanization plants in Kuwait and is operating on a better technology which assures quality and long life to the finished product.
The plant runs round the clock, 365 days of the year processing over 3,500 metric tons per year.
Our galvanization procedure and quality work has been approved by the Chamber of Commerce and Industry, National Housing Authority, Ministry of Public Works, Ministry of Electricity and Water, Kuwait Oil Co., Kuwait National Petroleum Co and Petrochemical Industries Co., etc to mention a few.
ALUMINIUM FABRICATION

The Establishment started with aluminium doors, windows, handrails of villas & chalets. But with years of experience we presented various styles of design to the market and are handling commercial projects, residential towers, showrooms, supermarkets etc. to execute the following works since 1990.
SCOPE OF APPLICATION
Curtain walling and Wall cladding
Fascia, Soffit and Fascade finishes
Roof Edgings and Parapet wall copings
Spandrel and Canopy panels
Column covers and Beam wraps
Balcony and Canopy cladding
Showroom finishes and Shop front signing
Stairwells, Elevators and Kiosks
Partition and Ceiling panels
GENERAL TRADING
Al-Habshi Establishment operates a separate trading department allowing the company to further develop its policy of providing a complete package to clients.
The trading department has nurtured strong and trusting relationships with local and international suppliers in order to stand above competitors in the local market. The Establishment therefore has the ability to procure (material of any international quality standard) high quality materials at competitive prices whether it be construction materials, steel sections & accessories, petrochemical related supplies or general goods.
The general trading department of Al-Habshi Establishment has in place signed agency agreements with several major international suppliers ensuring the availability of supplying proven quality products with minimum cost overhead to the customer.
MECHANICAL WORKS

MACHINE SHOP
The machine shop mainly operates as a support for the fabrication department providing the necessary services to supplement all the works to the clients satisfaction.
Jig & fixtures for production works, dies, die components and spare parts to maintain the fabrication plant are typical examples of routine work. The machine shop is used for preparation of all types of fixtures and fittings such as anchor bolts, standard bolts, flanges, shafts, rollers etc.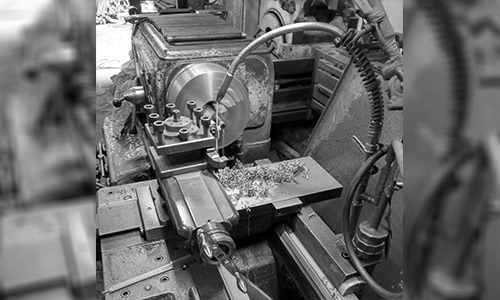 PAINTING SHOP
To complete the structural chain of the Establishment's mechanical department, Al-Habshi Est. has an "In House" painting shop which caters to the painting needs of the company's various projects.
The procedures and qualifications are based on international and local standards to meet the client's requirement.
SAND BLASTING
Al-Habshi Establishment being self reliant on its steel fabrication & galvanization plant, in its recent development in the mechanical Engg. department, started its sand blasting plant at one of the company's outlets, a 3000sq.m open yard, (partially closed) to meet the coating requirements of any sizeable structural projects. The existing plant fully equipped, meets the demand of both in house & site requirements and has an overall capacity of not less than 5,000 MT. per year. The flexibility of the job & its equipment makes its operations feasible to any kind of site works, at refineries, petrochemical complexes, power stations etc.
CONSTRUCTION MANAGEMENT
As the complexity of the construction industry and the standards required by employers increases, there is a demand for a professional construction company who can operate within physical and financial constraints to produce quality work to deadline.
Both Al-Habshi Establishment and it's individual employees have wealth of experience in basic construction, project management and management contracting. Past projects undertaken by the Establishment are broad ranging from the standard middle eastern concrete residence to the hi-tech service industry centres such as fast food outlets and commercial garage facilities requiring steel construction.
Al-Habshi Establishment can offer the complete service in civil engineering in the fields of commercial, residential, industrial and infrastructure and prides itself in its ability to provide value engineering.
BUILDING CONSTRUCTION
Al-Habshi Establishment is expert in providing services in various fields
Wall coating
Cat ladder and Spiral staircase
Aluminium shutter with electrical operation
Aluminium skylight
Steel protection grills for window
LANDSCAPING WORKS

EDGING SERVICES

Al Habshi Establishment is specialized in edging services in such a way that it provides your lawn the look you want.
It works along with your ideas and as per your requirements in order to prevent your lawn from entering flower beds or from spreading onto sidewalks and pavement.
Let's Build Your Dreams With Us
Call Us Now (+965) 24836353